Divergent Discs are designed with the recreational disc golfer in mind. Our discs are simple, affordable, come in bright colors in an uncomplicated but quality plastic.
We currently have seven different disc molds for sale, with four more molds we hope to release by the end of the year.
Our discs are currently for sale at Amazon.com and on the shopping page here on our website.
You can browse our discs by disc type Driver, Midrange, or Putter, or save money by shopping in bulk for our different disc golf sets.
You can also find the best discs for you based on your current maximum throwing distance.
If you easily throw substantially more than about 350 feet, then our brand is probably not for you.
Alpas Approach Disc
The Alpas is an ultra soft flexible approach disc made of silicone designed to stay putt and not roll away. This disc is available in a variety of fantastic color patterns. More Details.
Flight ratings 4/4/-2/1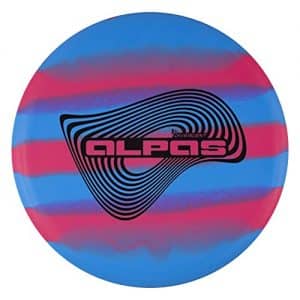 Basilisk Distance Driver
This is a very under stable high speed distance driver with a thick rim designed to give beginners the maximum possible distance.  Intermediate players will be able to get unprecedented distance with the Basilisk in tailwind situations. More Details.
Flight Ratings 13/5/-4/1
Kapre Midrange
The Kapre is a straight flying midrange with a deeper rim and more stability than the Leviathan. This is still a good midrange for beginners and recreational players, but intermediate players will also find more uses for the Kapre as an every throw workhorse mid. More Details
Flight Ratings 5/5/-1/1
Kraken Driver
Our Kraken driver is an easy to throw fairway driver with a 1.6cm thick rim. This straight flyer will provide excellent glide, control and distance for the recreational disc golfer. Even experienced players will enjoy the straight flight of the Kraken for controlled shots.
Compared with some of the major brands, this driver is similar to the Innova Leopard or Latitude 64 River. It is a great flying disc for new players. More Details.
Flight Ratings: 7/5/-1/1
Narwhal Putter
The Narwhal putter is designed to work well as an all purpose disc. It is perfect for rounds where you only want to take one disc with you. This disc is a straight shooter with excellent glide and gets excellent distance for a putt and approach disc. It works well for curving left, right or stays straight when thrown flat, perfect for driving, approach shots, and putting! If you're new to disc golf and just want to get out and play, consider purchasing the Divergent putter as your first (and perhaps only) disc golf disc.
Compared with the major disc golf brands, the Narwhal is similar to the Innova Dart.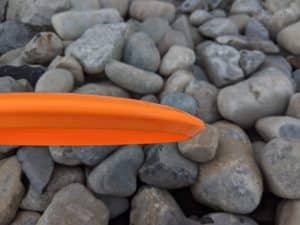 Flight ratings: 3/5/0/0
Leviathan Midrange
The Leviathan is a midrange disc designed specifically for beginners and low power disc golfers. This is a straight flying mid that doesn't fade much at the end of the flight even for low power players. This is a small diameter midrange  with an understable flight that is extra easy to throw. This is a thin midrange disc with a mostly flat top.
The prototype plastic of the Leviathan is ultra grippy and feels fantastic. This is a disc that you can be confident with in all weather conditions.
Experienced disc golfers will love using the Leviathan for straight flying hyzer flip shots and long turnover shots where the disc needs to hold the anhyzer line all the way until the end of the flight.
Compared with the more popular disc golf brands, the Leviathan is similar to the Westside Tursas. More Details.
Flight ratings: 5/4/-3/0
Divergent Discs Under Development
We currently have four disc golf discs under development. We hope that these additional discs will be available for sale for the summer shopping season.
We are very excited to soon have a full lineup of discs available so that disc golfers can play complete rounds with every shot availability using a Divergent Disc.
Golem Overstable Approach Disc – The Golem will be our second "StayPut" disc. Unlike the Alpas, this will be a very overstable approach disc designed to crash at a hyzer angle and park under the basket with maximal control and minimal skips.
Projected Flight Ratings 4/2/0/4
Lawin Distance Driver – Lawin means "Eagle." This high speed driver is designed to be an overstable utility disc for new players and a big distance bomber for forehand throws and players with more arm speed.
Projected Flight Ratings 12/5/-2/2
Minotaur Utility Driver – This very overstable fairway driver is designed for forehand throws, big hooking hyzers, and shot shaping anhyzer flex shots. You can count on the Minotaur when you need a big spikeing hyzer that won't go too far.
Projected Flight Ratings 8/3/0/3
Buy Divergent Discs
We have both individually listed and starter sets available now. Buy them here!
If you're interested in joining our Tester Team, sign up here.