We currently have five different plastic varieties, MaxGrip, StayPut, MaxValu, MaxLife and MaxFlex.  MaxGrip is our signature plastic used in our original golf discs and sets. It provides an excellent blend of grip and durability that recreational disc golfers are looking for.
StayPut is only for use in our specialty approach discs. This is made of an ultra soft silicone blend. There are several different varieties of StayPut plastic including Glow, UV reactive and color print! Divergent Discs plastics are designed to provide maximum value and control for the recreational disc golfer.
MaxGrip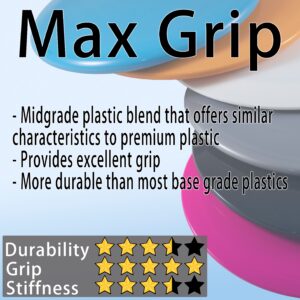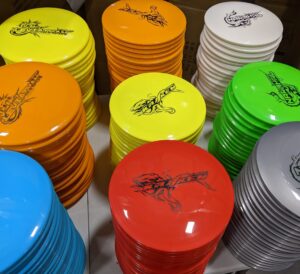 MaxGrip plastic is made out of a premium blend designed for maximum grip. This plastic looks fantastic with a shimmering appearance. It is moderately soft and flexible allowing for adequate safety and performance.
This is a premium disc golf blend that is much more durable than most golf discs for sale at comparable prices. The elastic nature of Maxgrip plastic allows it to quickly return to shape and gives it a heartbeat sound when pressing in the flight plate of many of our discs.
There are several different varieties of MaxGrip including MaxGrip Glow and MaxGrip UV.
MaxGrip Glow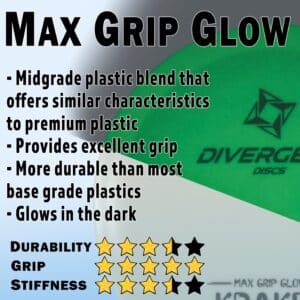 Max Grip glow is a slightly stiffer version of of MaxGrip plastic with the added benefit of glowing in the dark! With MaxGrip Glow plastic discs, you can play disc golf around the clock. These are still excellent discs for play during the day, but once the sun goes down you can continue to play.
MaxGrip UV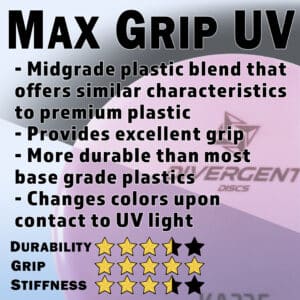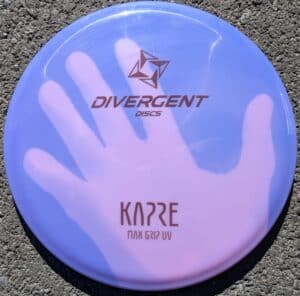 Maxgrip UV Discs change color in the sun!
Indoors a MaxGrip UV disc will be one color, but expose it to sunlight and it will darken to a different hue. Watch your handprint or the chains of the basket alter the color and design of your disc. Kids and anyone who likes creativity love playing with MaxGrip UV discs. Light Pink discs turn to Red, Blue to Green, Green to Purple, and Dark Pink to Purple. Learn more about how our discs change colors in this blog post.
*Note that the UV change ability diminishes over time.
StayPut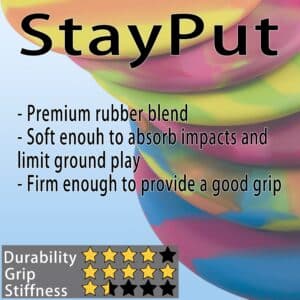 The plastic used for the Alpas and Golem is actually a Silicone blend similar to rubber. We call this plastic blend "StayPut" plastic. It is ultra soft, flexible, and designed to "Stay Put" next to the basket without skipping or bouncing. This unique golf disc material will save you strokes by keeping you near the basket.
Warning StayPut Discs May Break:
StayPut plastic can become brittle in cold weather. We advise against using these discs when outside temperatures are cold as discs can break on impact. Some discs also may break on impact. Do not fold in half as this also can damage your disc making it unusable.
MaxValue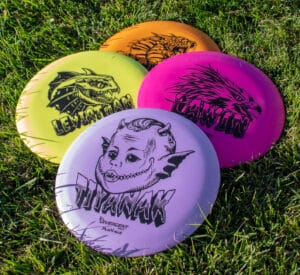 We've found that many recreational disc golfers just want cheap discs which is why we created the MaxValue plastic blend. This is an ultra affordable plastic blend that is perfect for beginners and starter sets.
Discs in MaxValue plastic have lest dome and a slightly more stable flight path than the same discs in MaxGrip plastic. Max Value is the perfect way to get started in disc golf if you don't play thickly wooded courses or only plan to play occasionally.
MaxLife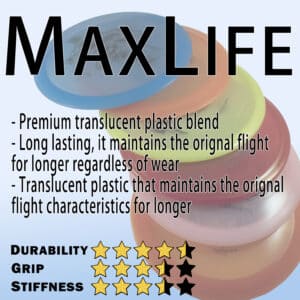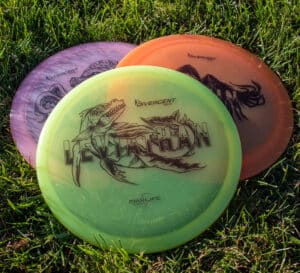 If you play lots of disc golf, regularly play in thickly wooded courses, or have a tendency to give your discs a beating you need MaxLife. MaxLife is an ultra durable plastic blend suitable for intermediate and even professional disc golfers. Divergent Discs in MaxLife plastic are more stable and will last you for hundreds of disc golf rounds, even on the roughest courses.
MaxLife discs have a transparent look to them and are much flatter than MaxGrip discs.
MaxFlex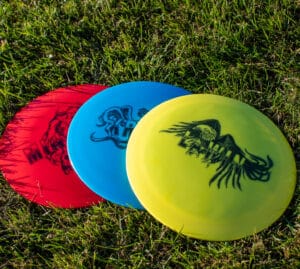 Max Flex is a softer version of our MaxGrip blend. It is not as flexible as StayPut, but this blend was designed to reduce skips and to perform better in wet and cold conditions.
The soft nature of MaxFlex makes it a little bit more durable than standard MaxGrip plastic.
If you like a soft flexible plastic for your disc golf discs, try Divergent Discs Max Flex plastic.
Incognito
Incognito plastic is an experimental version of MaxGrip that shifts color in the sunlight. Watch as your Dark purple Leviathan looks pink at some angles in the sunshine.