We now have four discs available for our tester team to try out.
Alpas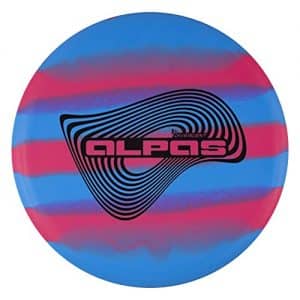 The Alpas is a completely unique approach disc available in an ultra soft silicone blend. This plastic is different than anything else made in the Divergent Discs line. Not only does the Alpas look amazing in its multi color plastic, but the soft and floppy nature of this disc will allow it to "Stay Put" near the basket on your approach shots without skipping or rolling away.
The Prototype Alpas are available in the stock print designed by Kaito Choi.
Basilisk
The Basilisk is the high speed distance driver designed for people that can't throw very far but want extra distance that can only be obtained with a fast aerodynamic driver. This disc is not recommended for players who are already able to throw a golf disc more than 250 feet. If a far drive for you is 200 feet, the Basilisk will help you break the 250 foot marker.
Tester Basilisks are available with the proto type stamp.
Kapre
The Kapre is an amazing straight midrange with slightly more stability than the Leviathan. Compared with the Leviathan midrange, the Kapre is has a deeper feel and can handle more power. While this is still an outstanding midrange for beginners, more experienced recreational players will enjoy the additional control that the Kapre provides.
There are a limited number of tester Kapre's currently available now with the Prototype stamp.
Nuno
The Nuno is a straight flying putter with a flat top. Compared with the domey Narwhal, the Nuno has a more traditional putting putter fill. The Nuno is an excellent choice for recreational disc golfers of all throwing powers.
Tester Nuno's are available with the prototype stamp.
Tester Team Discount – Buy Now on Amazon.com
Approved members of our tester team will get 50% off on one of the new molds by using the Amazon Promo Code: 50PROTOTEST
Get your tester disc at half off here: https://www.amazon.com/gp/mpc/ADRMCB8I084NA
This promo code expires September 24th.
Please post your new discs on social media, share them with your friends, and write us positive five star reviews about them.