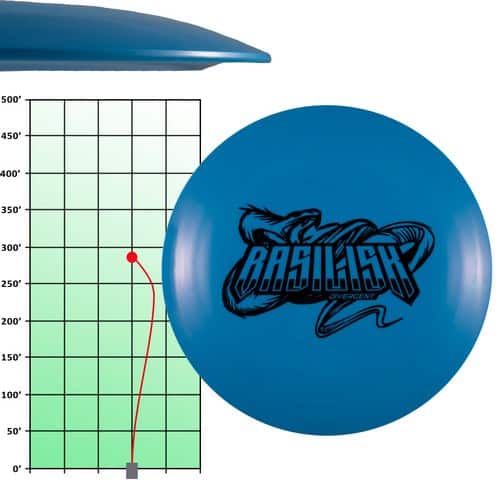 The Basilisk is designed to be the first Distance Driver for beginners. One of the most fun things about disc golf is throwing discs far, and the Basilisk will help developing players to throw farther.
This disc has a thick rim designed for maximum speed, but it is ultra understable making it friendly even for beginners. The Basilisk design allows low arm speed throwers to experience the benefit of a full S-Curve flight path. Watch the Basilisk turn to the right for maximum distance and then fade back to the left as it slows down at the end of the flight.
From our testing, we have found that new players are able to add up to 25% more distance by throwing the Basilisk. Players that previously had a max distance of 200 feet are able to throw the Basilisk close to 250 feet.  Add some extra feet to your driving game with the Basilisk.
NOTE: Disc and stamp colors and disc weight may vary. Basilisks generally weigh between 170-174grams.
Flight Ratings: 13/6/-5/2