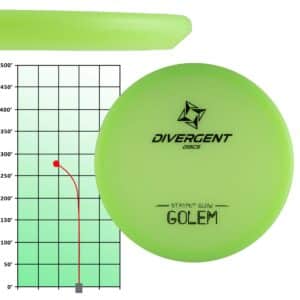 The Glow Golem is an ultra overstable approach disc in a super flexible silicone blend that glows in the dark. This disc handles power, manages wind, and has a consistent fade. Because of its overstability, you'll have a consistent flight in almost all wind conditions.
The Golem is a great utility disc to use on hilly approach shots, where there is a high chance of roll-aways. This disc also works well for tight greens and limited landing spaces where you need to stay close to the pin.  The flexible Stayput Glow plastic is designed to absorb energy and limit ground play so that these discs will "stay put" where they land.
This glow edition of the Golem is available in a bright green color that is easy to see for day play, but is designed for disc golf rounds after dark. For best glow performance, use with a UV flashlight.