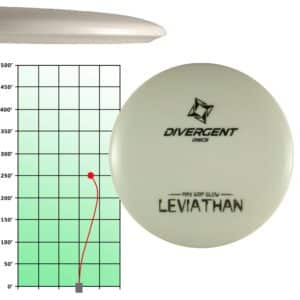 Our most popular beginner friendly midrange is now available in glow in the dark plastic! Don't let the lack of daylight stop you from playing your disc golf game with your favorite disc. In daylight, the Glow Leviathan looks just like any other white Leviathan. At dark, the Glow Leviathan emits a beautiful glowing green.
The MaxGrip Glow plastic version of the Leviathan is slightly stiffer than the normal MaxGrip Leviathan.
The Leviathan is an easy-to-throw mid-range disc that works perfectly for new players as a go-to option for for minimal fade. It is a very understable, slow speed disc which means that it is very fade-resistant. If a new disc golfer wants only one disc to get them started, the Leviathan is a great choice.