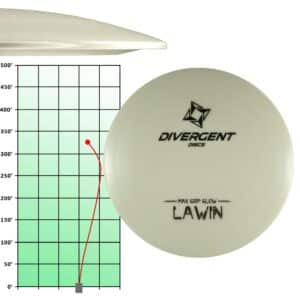 The Glow Lawin is our max distance driver, now available in a glow in the dark plastic so you can play disc golf after dark.
The Lawin is our high speed driver designed to help recreational disc golfers break 300 feet in total distance. It'll provide a full S-Curve flight path with moderate power. This distance driver offers more stability than the Basilisk. Allowing it to handle more power and help you get further distance once the Basilisk becomes too flippy for you.
For best glow performance, charge the Glow Lawin with a UV flashlight before each throw.